random quarter life crisis ramblings.
i'm 25!
grabe, ang bilis ng panahon. i sooo don't feel like i'm 25 years old. that's exactly a quarter of a lifetime if a hundred years would still be considered a lifetime.
i'm 25, and i'm happy!!
but, i'm in a crisis.
its nothing negative though! let me start by saying that. it is in no way any negative type of crisis. at least i see it that way. (at lahat ng nagbabasa ng blog na ito, alam na as a person, anti-negativity talaga ako, hehe.)
hindi ko kasi mahanap ang word for it! bored? hindi naman.. anxious? medyo.. anticipating? pwede rin.. the word i'm looking for is something that expresses this.. that i feel sooo happy, content, fulfilled, thankful, gracious, humbled, as in!! but at the same time, i know that there is sooo much more i can do, so much more i can accomplish, and that my purpose goes faaar beyond anything i can dream of right now. ambisyosa? hahahaha, wag naman sana!! more like.. inspired. ooh, there, i think i like that word. inspired!
inspired to write!
ang tagal, tagal, tagaaal na since my last post, and its weird, kasi suuuper inspired naman ako to write and there are sooo many things i want to share! i guess it just takes a certain mood and specific timing para makasulat ng maayos. kasi pakiramdam ko naman, kapag minadali kong magsulat, just for the sake of posting something, hindi ko din magagawa na iparating talaga yung gusto kong isulat.
and now, i feel that i can. (naks!)
ang dami dami kong gustong i-share, di ko lang alam where to start or how to go about it! haha. i'm having trouble with finding the right words i think.. naranasan niyo na ba yun? actually, title pa lang ng post na ito, nahirapan na ako. i used the word 'ramblings' to mean talking on and on and on and on. but if you look it up in the dictionary, 'ramblings' means more to walk on and on, more like wandering, but here, i mean to just talk and talk and share and share so i hope you (you, reading this i mean!) don't mind just killing time with me here. hehe.
inspired by writers.
a year ago, i had a very strong opinion on something happening politically in the country. at dahil fan na fan ako ng tambalang failon at sanchez sa dzmm (fan na fan talaga! as in meron ako nung backkk-paaaccckkk! hehe. ganun ang spelling kasi ganyan din sabihin nina ted at korina. listen to them weekdays at 830 to 1030 in the morning sa dzmm 630!!) i became aware of the poem "tagubilin at habilin" that they regularly play on air. i posted the poem here in my blog (nakikiisa sa mga saloobin nina ted at korina!) and was so touched to receive favorable comments from readers, who loved the poem.
a year later, and just a few weeks ago, the most pleasant surprise left me ecstatic and smiling for hours!!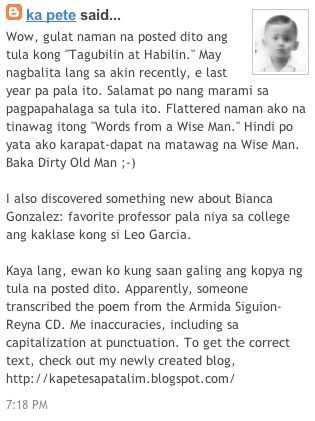 at bilang pasasalamat kay ka pete! narito ang tamang bersyon ng kanyang akda, napapanahon sa panawagan nating lahat para sa katotohanan!!
TAGUBILIN AT HABILIN
Ni Jose F. Lacaba
Mabuhay ka, kaibigan!
Mabuhay ka!
Iyan ang una't huli kong
Tagubilin at habilin:
Mabuhay ka!
Sa edad kong ito, marami akong maibibigay na payo.
Mayaman ako sa payo.
Maghugas ka ng kamay bago kumain.
Maghugas ka ng kamay pagkatapos kumain.
Pero huwag kang maghuhugas ng kamay para lang makaiwas sa sisi.
Huwag kang maghuhugas ng kamay kung may inaapi
Na kaya mong tulungan.
Paupuin sa bus ang matatanda at ang mga may kalong na sanggol.
Magpasalamat sa nagmamagandang-loob.
Matuto sa karanasan ng matatanda
Pero huwag magpatali sa kaisipang makaluma.
Huwag piliting matulog kung ayaw kang dalawin ng antok.
Huwag pag-aksayahan ng panahon ang walang utang na loob.
Huwag makipagtalo sa bobo at baka ka mapagkamalang bobo.
Huwag bubulong-bulong sa mga panahong kailangang sumigaw.
Huwag kang manalig sa bulung-bulungan.
Huwag kang papatay-patay sa ilalim ng pabitin.
Huwag kang tutulog-tulog sa pansitan.
Umawit ka kung nag-iisa sa banyo.
Umawit ka sa piling ng barkada.
Umawit ka kung nalulungkot.
Umawit ka kung masaya.
Ingat lang.
Huwag kang aawit ng "My Way" sa videoke bar at baka ka mabaril.
Huwag kang magsindi ng sigarilyo sa gasolinahan.
Dahan-dahan sa matatarik na landas.
Dahan-dahan sa malulubak na daan.
Higit sa lahat, inuulit ko:
Mabuhay ka, kaibigan!
Mabuhay ka!
Iyan ang una't huli kong
Tagubilin at habilin:
Mabuhay ka!
Maraming bagay sa mundo na nakakadismaya.
Mabuhay ka.
Maraming problema ang mundo na wala na yatang lunas.
Mabuhay ka.
Sa hirap ng panahon, sa harap ng kabiguan,
Kung minsan ay gusto mo nang mamatay.
Gusto mong maglaslas ng pulso kung sawi sa pag-ibig.
Gusto mong uminom ng lason kung wala nang makain.
Gusto mong magbigti kung napakabigat ng mga pasanin.
Gusto mong pasabugin ang bungo mo kung maraming gumugulo sa utak.
Huwag kang patatalo. Huwag kang susuko.
Narinig mo ang sinasabi ng awitin:
"Gising at magbangon sa pagkagupiling,
Sa pagkakatulog na lubhang mahimbing."
Gumising ka kung hinaharana ka ng pag-ibig.
Bumangon ka kung nananawagan ang kapuspalad.
Ang sabi ng iba: "Ang matapang ay walang-takot lumaban."
Ang sabi ko naman: Ang tunay na matapang ay lumalaban
Kahit natatakot.
Lumaban ka kung inginungodngod ang nguso mo sa putik.
Bumalikwas ka kung tinatapak-tapakan ka.
Buong-tapang mong ipaglaban ang iyong mga prinsipyo
Kahit hindi ka sigurado na agad-agad kang mananalo.
Mabuhay ka, kaibigan!
Mabuhay ka!
Iyan ang una't huli kong
Tagubilin at habilin:
Mabuhay ka!
salamat ka pete!!
postnote: aaaaaaaaaack! sobrang starstruck pa rin ako grabe!! i still can't believe jose lacaba knows me! me!! and he's read my blog! my blog! ayayay! the wonders of technology nga naman. great people reading simple people's blogs, and all of us just inspiring each other. (naks!! pa-deep, pero totoo!!)
inspired to help kids. :)
click on this to read about them.. =p

inspired by time alone..
i love being with my family and friends, but i also love being just alone. (again, hindi ito pa-deep, masarap lang talaga minsang mapag-isa! i'm sure some of you reading this can relate!) whether its driving, walking around, eating, reading, writing, or bumming. "lola" ang tawag naming magkakaibigan sa ugali na ito, but if that is the term for wanting to just sit around, do nothing, settle in early, wake up early.. well! count me in, i'm a lola! hehehe.
enjoy talaga ako kapag nakakapag-biyahe ako mag-isa. i don't know what it is about traveling alone exactly.. it's a lot of things! the feeling of being independent, the luxury of owning your own time and not being pressured to do this, do that, going at your own pace, hearing yourself think (a good break from the fast-paced work life we all have), daydreaming for hours annd hours, reading and writing, and it doesn't hurt that i was able to do all this under the beautiful sun and sky in beautiful mactan, cebu!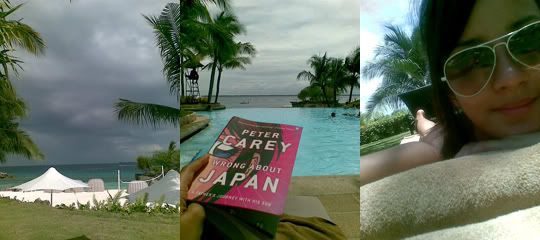 ahhhh.. super sarap!! talagang rest and relaxation to the maaax!! a gigantic thank you to my good friend pam, and her parents, tito ramon and tita cynthia, kasi they adopted me and i was the bunso picazo for that trip!
i looove cebu. i've posted about cebu several times here on my blog and all the time i say how much i love the place and how magical it is to me!! on this particular trip, i got to accomplish so many things! i got to write, i got to read, i got to try this famous restaurant 'abaca' (ayayay! one of the best places i've eaten in, you have to try it! great food, service, and ambience!), i got to meet new friends because of pam, and i got a much-awaited(-by-me) tan! hahahhaha. i love cebu. and i loved being with myself in cebu. =p
inspired to read!
ang tawag ko sa sarili ko, "frustrated reader". that's because i want so much to be like those voracious reader friends of mine, but i'm the type that after a few pages (and i mean few, as in two, or three!!) i really get sooo sleepy and just end up going off into la-la land! so yes, it follows, that it takes me months to finish just one book!! (pathetic hindi ba?! naturingan pa naman akong philosophy student! wa?? pano nangyari yun! hahahahhaha!) i've longed to be the type that can say "my favorite author is.." kaso pano ko naman sasabihin yun, para lang yun sa mga tao na nakabasa na ng napakaraming libro in iba't ibang mga manunulat! ayayay.
but along the lines of being inspired to write, and being inspired by time alone, for the first time in 25 years, i was able to finish a book in two days!! woohoo!! (i know this might be normal for more seasoned readers, hehe, but for me its reason for celebration! woooohoooo!!) because i got to have time alone, and away, i breezed through 'wrong about japan' by peter carey. (again, celebrate with me, yaaaaay!! haha.)
those who know me or those who have read a bit of my blog will know about my fascination with the japanese. just a few months ago i posted exactly what japanese things (or people) i love, and so i guess this is why this book appealed to me so much! it is a very simple story about a father and son who make their way to japan, armed with their fascination for manga and anime, and the things they realize about japanese culture, and about each other, during their trip. nice!! (thank you to the one who lent me this book!!)
i like reading a lot (when i don't fall asleep that is!) because i learn so many things and i feel i'm taken away to other worlds and time frames when i am reading! hehe. but aside from being a fan-of-japan, i think i loved reading about the number-based-and-not-street-name-based addresses in japan, the pay-attention-or-you'll-surely-get-lost-in-the-twenty-or-so-train-line-system, the almost-surreal harajuku girls, the insanely-high-tech bathrooms, and sooo much more, because of my insanely fun-filled trip to the number two city on my list of top-three-cities-i-want-to-see-most-in-the-world!!!!
inspired by tokyo!!!!
why number two? because number one was paris, that i oh-so-blessedly got to go to back in 2005, and number three and still to come, is cairo. so many places to see.. so little money.. and time!! hahahahaha.
i share with you a few photos from one of the best trips of my life! (turning japanse, i think i'm turning japanese, i really think so!!)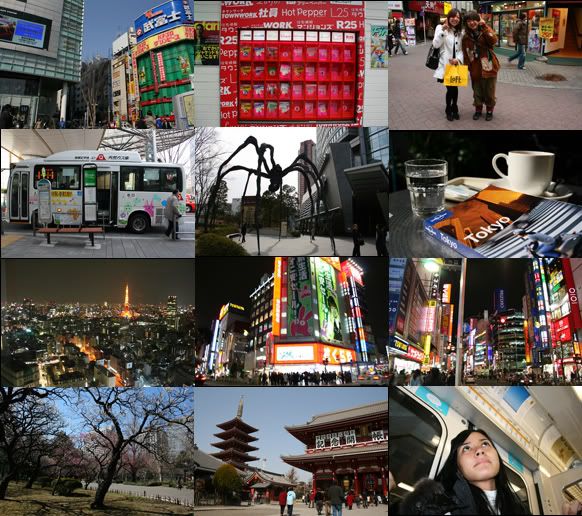 traveling reeeeeeeeally excites me and makes me happy like no other thing in the world can!!!! iba yung thrill, iba yung fulfillment, iba yung saya!! praise GoD super, super for an amazing opportunity!!
as a last inspiring note, i end my post with..
inspired by blair's look!!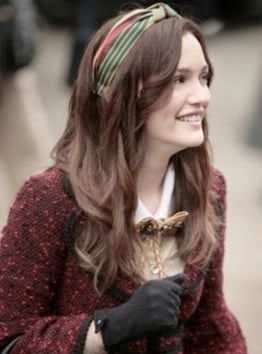 hahaha! sa lahat ng nanonood ng gossip girl, i'm making it clear ha, it is blair's look that i love.. not her ugali! hahahhahaha! ay graaabe, kaya kong titigan lang itong si blair! her hair, her clothes, her shoes, her accessories, and of course, her headbands! ayayaaay! haha. (okay, ang lakas maka-tibo ng sinusulat ko, pero talagang i dream na sana paggising ko, my closet looks like her closet! haha. dream on, bianca! haha!) and please, no spoilers, hinihintay ko pa ang paglabas ng dvd, so sa etc pa lang ako nanonood and its only like on episode five! at least i have something to look forward to every week. =p
(just like my blog. i am looking forward to going back to posting every week! i thank you. bow!)