and after over a year..
finally i am back to blogging.
am happy to be writing again!
phew.
what a year 2006 has been for me.
what a year, i tell you.
lahat ng posibleng maramdaman ng isang tao sa buhay, naramdaman ko lahat sa loob ng isang taon.
extreme happiness, extreme sadness, love, extreme love, fear, guilt, excitement, peace, uncertainty, certainty, denial, longing, comfort, security, satisfaction, embarrassment, pride, confidence, strength, anxiety, jealousy, helplessness, reassurance, courage, faith, hope.. and the list goes on.
and as the list goes on, life goes on as well.
we're only human, we're allowed to make mistakes, we're allowed to wallow in our hurts.
but we just have to keep going. we actually have no choice but to keep going.
life is beautiful and GoD is good!
life is a non-stop rollercoaster of a journey, a continuous reassessment of priorities and values, and the one and only chance we have to be the best us that we can be.
everything else is actually a bonus.
roundtrip ticket to the states, over a thousand dollars.
shopping at urban outfitters and h&m, a couple of hundred dollars.
a cup of coffee and a magazine at borders, around nine dollars.
subway fun pass, seven dollars.
the time spent with my brother, priceless.
here's to a great 2007. cheers!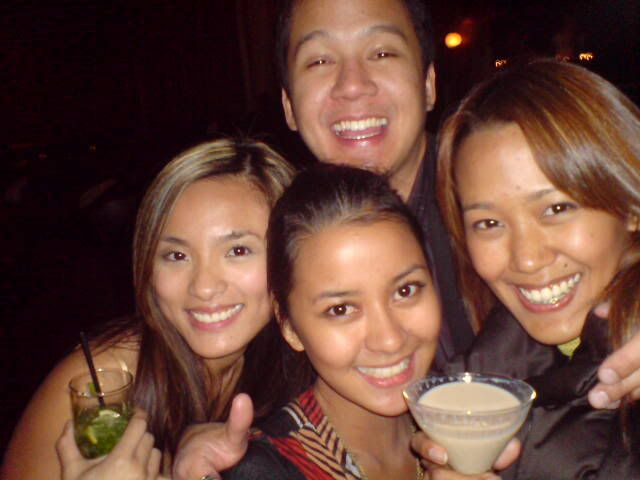 most wonderful texts received that helped me start my year right.
"that was really the best birthday gift ever!!"
from my brother
"you will make it for one reason: GoD will sustain you."
from my pastor
"and the best is yet to come."
from my tita sandy
"walang palitan."
from my best friend pepel
"no one said that you have to do it alone."
from my good friend pam
"remember that GoD wants nothing more than your own happiness, in fact, He wants it more than you yourself want it! isn't that so awesome?"
from my good friend rina
i like listening to "show me" by john legend.
i realized as i lay down to sleep
we haven't spoke in weeks
so many things that i'd like to know
come have a talk with me
i need a sign, something i can see
why all the mystery?
i try not to fall for make believe
but what is reality?
where do we go?
what do we know?
life has to have a meaning
show me the light
show me the way
show that you're listening
show me that you love me
show me that you walk with me
hopefully, just above me
heaven's watching over me
guess it's funny how i say thanks to you
for all you've given me
sometimes the price of what you gave to me
i can't stop questioning
o GoD of love, peace, and mercy
why so much suffering?
i pray for the world, it gets worse to me
wonder if you're listening
when people go
why do they go?
why don't you choose me?
but someday i know
i'm gonna go
i hope you're waiting for me
show me that you love me
show me that you walk with me
hopefully, just above me
heaven's watching over me
maybe we'll talk
some other night
right now i'll take it easy
won't spent my time
waiting to die
enjoy the life i'm living
show me that you love me
show me that you walk with me
hopefully, just above me
heaven's watching over me
what i'm obsessing about right now.
..travelling.. waaah!! it makes me so happy thinking that one day, i'll reach my dream destinations like japan, egypt, brazil, greece, kenya, cambodia, spain, and any aman beach. (ay grabe, matagal-tagal pag-iipon ito, but if ever it happens, it will definitely be worth it.)
..the bisaya words "kapuy", "kaluuy", and "pataka". (which mean pagod, kawawa, and what-the-heck-you-don't-know-what-you're-talking-about respectively.)
..totally spies and hannah montana on the disney channel!
..the original motion picture soundtrack of "the last kiss".
..lola prints.. as in like floral designs, lines, swirls, dull and faded colors, as in lahat ng binili ko while shopping in the states were lola prints. bags, wallets, tops, dresses.. i love it!
..having good dinners with great company in serendra.
..the thai crunch salad at cpk.
..the warmth of the sun at 8AM.
..travelling.. (yes! obsessed talaga ako to travel! haha.)
..reading inspiring, human-interest stories!
..the anticipation and excitement of catching my brother or my best friend online to chat with them.
..quick talks throughout the day with my LoRd and personal savior.. whether to say thank you, to ask for something, to apologize for something, or to give glory to His name, he's always there.
thank you to those who used to read my blog and are reading it again right now, welcome to those who are new to my blog, and thank you to calc and ven for my super cool template!