i am a hope warrior.
i love cebu. i really do! there is something so magical about that place in my opinion. and the other week, i was fortunate enough to have something so magical happen in cebu once again!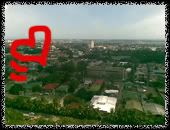 8.45AM: cebu international airport.
i am picked up in the airport by commissioner mike lopez of the national youth commission, the one who invited me to be a keynote speaker for the event that night, along with other nyc staff members, and a police escort as well. so sosyal.
on the way to the hotel, we talk about politics and the youth's role in the political scene in this day and age. we share our opinion on the stand off of the group of senator trillanes in makati. i tell them about my great passion for education for the youth, and they tell me about the workings of the office of the nyc. then, out of the blue, "ayan! diyan ang taping ng deal or no deal mamaya!" they point out to me the set of the show in the parking lot of the mall as we pass by it. "wow, ang bigatin naman nila. so lahat ng 26K, lilipad papuntang cebu?" i asked in awe. sadly, di kami nakanood nung gabing yun kasi kasabay nung function namin. sayang, saya siguro nun!
3.30PM: university of san carlos.
after resting for a bit, taking our lunch, and meeting some local journalists (hi nathalie! hi orly! hi vanessa!), we headed to the famous university of san carlos. nalaman ko lang nung araw na yun na ang usc pala ang oldest university in the country! astig no? we were ushered in to an auditorium that was filled with students. napaka-warm ng welcome nila sa amin, nakakataba ng puso.
that day, the tingog carolinian party, a political party in the university, was celebrating their 20th anniversary. and in line with their celebration, they were launching a movement called
hope warriors
. it was my honor to be declared that afternoon as a "hope warrior". someone who will work to hopefully spread hope to every person he or she encounters in his or her life.
they asked me to say a few words on stage. i really didn't know what to say, but i guess was just so inspired by all the students in front of me, that i just shared stories that would hopefully push them to face their fears, to go for their dreams, and to be the best them that they can be. ang mga nasabi ko sa kanila, sa totoo lang, parang pinaghalo-halong past topics sa blog ko. about how each one of us is different, and unique, and how no one else can do what we do. about how we can make a difference if we really want to. and i ended by sharing what i saw in the 'unicef world wall of peace' in california..
"the person who says it cannot be done should not get in the way of the person doing it."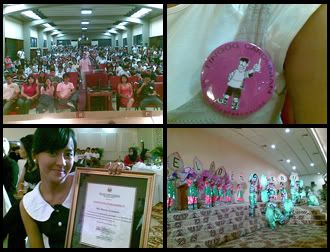 7.00PM: cebu international convention center.
dressed in a black mini with a white collar, black tights, and black baby doll heels, i shivered in the uber cold aircon of the holding area, waiting for my turn to deliver the keynote speech in the event for the
asean ten outstanding youth organizations
. students from all over the south east asian region were there to represent their country and to show how they have been doing their part in making a difference. just being there, seeing them, listening to the program, was so inspiring. and it was an honor as well to be delivering the speech that night with one of the most authoritative public speakers in the country, media mogul boy abunda.
our speech tackled the most pressing issues we, the youth, are facing today. kung gaano kahirap maging bahagi ng kabataang pinoy sa panahon na magulo ang pulitikal na sektor. kung saan kahirapan pa din ang pinakamalaking problema, na isang malaking dahilan din ng ibang problemang kinakaharap natin. kung saan napakadami pang dapat gawin para maayos ang educational system ng bansa. and the list goes on and on.
but, we were there to take a stand, and to say that in actuality, this is a very exciting time to be young and to be filipino. the opportunities available to us are bigger and better. the information access that we have is actually unbelievable. now, more than ever, we can really be what we want to be and make things happen if we want to. then again, as the saying goes, with great power comes great responsibility. and i ended by saying..
"with firm conviction and belief in my fellow youth, i say we are ready. and if we feel we're not so ready, we will make ourselves ready. ready, willing, and very eager to take the challenge."