aAaAh.. eUrOpA!
starbucks asks, "when was the last time you did something for the first time?" a sweet question indeed.. and my answer is..
europe
! i'm sure that counts! :p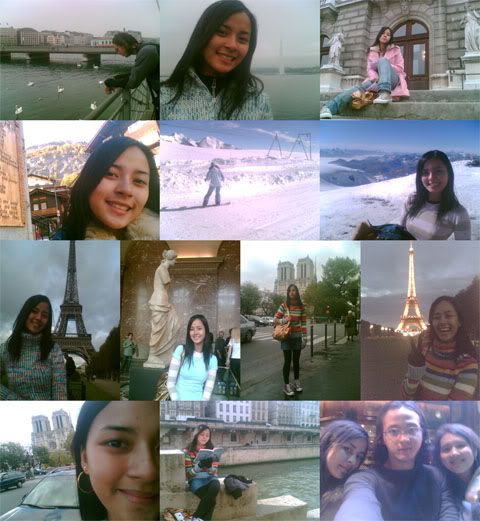 the stories behind the pictures!
note: these are just a few of so many pictures! descriptions are from left to right, top to bottom..
geneva, switzerland!
geneva is a nice, simple, architecturally beautiful city. this is lino looking out at lake geneva, where we saw maybe 20 swans just swimming around.. beautiful!
just across the bridge, on the other side of the lake, right smack in the middle, you see the tallest fountain in the world! you see that bluish grayish vertical line beside my face? that's it! the buildings around it were just around 1/6 its height.
after a long walk from the main area of geneva going to old geneva, is a main town square with a museum, park, and operahouse. this is me resting my feet in my oh-so-cool pink trench coat (hehe, its care of my friend pam picazo) by the steps.
zermatt, a ski town in switzerland!
zermatt is beautiful. it looks like a village in disneyland, or a cartoon town, but its all real! this is me having hot coco in a small cafe, with the swiss alps behind me. (whoooa!)
zermatt boasts of offering ski slopes all year round. lino was sprained, and i had no gear nor experience.. so it was ate pia and our friend alf who went skiing. this is ate pi on a snowboard. aliw!!
but of course, we were there already, we just HAD to take the cable car all the way to the top! this is me 4000 feet up high! it was so high up, that we really felt the air was thinner. but it was beautiful! snow capped mountains as far as the eyes can see!
paris, france.
paaaaarrriiisss! aaack i still can't believe it! ever since i was a kid, it has been my DREAM to see the eiffel tower. i finally did.. wow! actually, story goes, is that when it was built, the people either loved it, or found it so obtrusive. when you're there, at first its of course spectacular, but when you stare at it, you sort of do feel how obtrusive it is. its just.. its just.. SOOO huge!
we paid a visit to the louvre, one of the most well known museums in the world, and this is me with the venus de milo aka aphrodite behind me. very nice! we also saw the mona lisa, cupid and psyche, nike the goddess of victory, all those egyptian artifacts.. yep, all that jazz! ay grabe!
right outside our hotel was the notre dame. such a beautiful church! yes, that's where the hunchback of notre dame story was set! when you go near the walls, the details sa architecture are amazing. and this is me in my oh-so-asian get up. hehe. i stood out like a sore thumb in my bright outfits, black hair, and brown skin.
i was so enamored by the eiffel tower that i just HAD to see what it was like at night! i was so lucky, because apparently, the first five minutes of when they turn the light on, there's a sparkling light show!! as in! the eiffel tower sparkles! it was so beautiful i couldn't stop jumping and screaming. hehe. then it dims down to this nice golden glow you see in the picture.
as a memory of my first ever europe trip, i had a second ear pierce put on my right ear! yahoo! hehe. nothing big really, its just sort of a special remembrance.
across the street from our hotel, is a bookshop that has been up since 1902! its called shakespeare and company, and its this nice, quaint, charming little book shop! looks like a page out of harry potter! i bought a book on philosophy. also, right outside our hotel is the sein river, the main river that runs through paris, and we spent one morning just reading by the river! this is officially my favorite spot in paris!
this is our last night in paris.. me, lin, and ate pi having a celebratory hot cup of coco in the coffee shop right by our hotel. haaay, nine days of tiresome walking, sight seeing, picture taking, and culture absorbing in europe! what an experience!!
LeT mE sHaRe..!
its really impossible for me to write and share everything i learned and saw and found beautiful in europe, cause really, every second, and just walking, just sitting down, is so enriching!
but. but! i did learn a few things i really wanna share, more of things i saw there, that i wanna suggest for here in our country.
1 -
making the city more tourist friendly!
going around europe makes you realize how un-tourist friendly the city is! in fairness, manila is making a big, big effort.. but how about makati, pasig, and quezon city? really. if you were a tourist, saan mo gugustuhing magpa-picture in these areas? greenbelt, rockwell, at abs-cbn at gma na lang ang pinaka! what happened to the landmarks? everywhere you go in europe, buildings, churches, monuments, even park benches all clue you in on their culture and history. you'll even see specially made spots perfect for posing for pictures! i don't see much of that here in the city.. its not just boracay, palawan, cebu, or davao that we have to offer! department of tourism, our main city is tourist worthy too! even those painted taxi cabs in london are a good idea for us here! or at least its a start!
2 -
designing of the mrt stops.
in their main subway in paris, each stop has its own distinct look. for example, the franklin roosevelt stopped had a very american look and design to it, the stop nearer the champs elysees and eiffel were more posh and sophisticated, and get this, the stop for the louvre was actually a mini museum already, with art on display! we got to thinking, why not get our national artists, or even budding young artists, to give each mrt stop a different look, or feel, or even a mural of something that happened in the history of that area. it'll contribute to beautifying the area, promoting local artists, awareness of history and culture, as well as being tourist attractive and friendly! sa pamunuan ng mrt, suggestion at panawagan lang po!
3 -
support for the local film industry.
ate pia travelled for official business in geneva, where she met senator del picchia of france. on the train from switzerland to paris, the french senator sat with us and we all shared stories about the differences between the two countries. (yes, there are a lot!) but one very noteworthy one.. he mentioned that in france, lawmakers are allowed to sort of sponsor a certain film, and in the end, the film features something of the same interest to the lawmaker! for example. example lang to ha! a congressman from sorsogon has budget to sponsor a film by star cinema. star cinema in turn conceptualizes a story revolving around sorsogon. as a sort of x-deal, star cinema gets money to make the film, sorsogon gets exposure for tourists and pinoys alike! galing no? (sana lang kung mangyari dito, walang corruption na mangyari.)
fOr aLL tHoSe pRo-yOuTh eMpOweRmEnT!
the
alay sa bayan community
and its partners recently launched its
"alab ng pusong pinoy"
campaign which fights for youth empowerment through development in three specific areas.
sports
, to train our young athletes for international competitions and support them by coming up with various programs. very crucial in a young person's life are the teachers he encounters in school, so another thrust is
teacher formation
. the young today will rule tomorrow, so
youth leadership
is also a main advocacy of the group.
there is still so much
hope
for our seemingly hopeless country! please support and visit
the alab website
.
acey
aerol84 (salamat sa long comment! yes i hope people continue to support ate pia's causes for health and the environment.. :) yes we'll announce details of our mup auction soon! bless you at salamat sa suporta!)
alrenz
alvin (and thank you for finally commenting! haha! salamat at GoD bless!)
april (thank you, thank you! i guess we should all do our part to make a difference in the world. you shine too! bless you!)
arkel (wow! sobra naman akong na-touch sa message mo! salamat, salamat, salamat ng madami and i hope to meet you soon too. :) sana sometime makanood ka ng y speak sa studio, kayo ng friends mo! thank you and GoD bless!)
arlene (mahal lang kasi yung made to order chucks! pero salamat sa info!)
bea_0807 (thank you for your kind words! i took my major in comm arts, minor in philo for college.)
bianca (tocayo! you're so sweet.. thank you for your kind words! keep your spirits high too!)
belay (salamat darling! naku nakakataba ng puso, salamat! bless you!)
ben-ariel (bennytots!!!! i miss you!! oo nga sana napanood mo yung zobel game.. you'll be proud! i was so proud singing the alma mater. :p)
bettina (i wish i could go there! someday!)
caitlin
calculus (naks salamat sa pag-plug! :) bless you at as always, super salamat sa suporta! mabuhay ka, mabuhay ang gcx-ers! hehe.)
caliboy
camille (your fave host? :) naks naman.. i'm very touched!! bless you and salamat ng napakadami sa suporta!)
carla
carla c. (masaya yung victory party! one big reunion! la lang masyado galing sa batch natin pumunta. how are you? hope all is well with you!)
cath (too bad you missed the pacquaio match! but it was all over the news so i guess its not that bad! bless you!)
catherine (no problem on the link dear! wow naman thank you! thank you for the support and sana maki-y speak ka lagi! you rock too!)
cheddar
cheenee (wow hehe i'm glad lino was of help! small world ah. bless you dear!)
cheska (yupangcs!! i can't believe my luck! i missed you by one week! ang malas ko naman!! but paris was fantastic! its so beautiful!! i'm going back next year, will you still be there?)
ck (hi! wow, a prom? :) all my work stuff have to be coursed through those who handle me.. if you're willing to give it a try, sure. ;p bless you!)
clara (i'm speechless sa kind words mo.. :) salamat. bless you too sa lahat!)
clare (na-star struck talaga ako sa kanya i swear! hehe. bless you!)
coin operated boy (no problem sa link! salamat ha!)
dandann
dee (bless you! salamat ng madami!)
doods! (thank you! keep on blogging too and thank you for y speak-ing! it means a lot!)
earl (you are always, always welcome to y speak! we're so happy and fulfilled to know young people like you have such zest and drive to make a difference. mabuhay ka! GoD bless! and thank you sa screen caps. :p)
erick (naku naman salamat! well sana makanood ka nung
floyd
frances (fellow zobellian, hi! hope you can join gabriel next year. :) haha that straight talk guesting was fun and thank you for enjoying it too!)
francis allan angelo (wow, all the way from iloilo. salamat ng madami sa suporta! salamat at sana nga more to come! hehe. bless you!)
freyti (hello lola! hope you enjoyed your sem break! bless you!)
eli
ewak
gen (maybe you and your youth fellowship would like to watch live sa studio pag y speak one time! hehe, masaya yun! bless you!)
gennelin (aaw.. thank you for your inspiring words! its people like you who empower me too. bless you!)
gretel (thank you so, so much for your kind words! hehe at salamat din sa panonood nung homeboy guesting na yun!)
gwapogi (naks! go ateneo! hehe.)
hishes (thank you for your kind message! sana ayos na computer mo, i know the feeling na hassle pag sira!)
ilse (animo zobel!)
ish (hi dear! hope all is well with you! bless you!)
jagaruga (i'm baaack! hehe salamat sa pagsuporta ha! bless you!)
james (astig nga si wade! hehe, "anong nangyari?"!)
jam3s (sure you can ask me here sa comment box ko! GoD bless, thank you!)
janet (i'm more touched with the comment you left! speechless ako ah! salamat ng napakadami and sana you get to watch y speak in the studio live. masaya! GoD bless and thank you ulit!)
jc's_girl (do you know that i'm a jc's girl too? my kuya's name is jc and i'm such a kuya's girl. hehe. your kind words mean so much to me.. thank you and bless you!)
jean
jena
jepi (feel free to join the event next year! hehe. bless you and thank you as always!)
jepoy (actually i think my mac enjoys his look naman! hehe!)
jercyl (naku, salamat ha! hehe, ang feeling? hirap naman ng tanong na yun! fulfilling, dahil masaya at thankful ako sa trabaho ko. :) happy, as we should be with all the blessings we receive!)
jessa (in the palms? :) wow.. next time don't hesitate to introduce yourself, hehe it'll be nice to meet you too! i'll tell ate pia about your comment. hehe. bless you! animo zobel!)
joanne (its comments like this that make me feel we're doing something good! bless you and thank yooou!! i'll be back on the show this sunday.)
joanne
jong
josh
junette (wow! salamat naman sa kind words mo.. thank you! yes please if you see me, introduce yourself and say kaw si junette na blogger! GoD bless!)
karla_ism (yes, please do join next year! you and your friends! it'll be highly appreciated plus your help will go a long way!)
kat
kathy
katrina (uy salamat sa pagbili! yey! hehe. bless you!)
kikay (thank you for waking up for mup! yey! sana di ka magsawa.. and talaga, you think bagay kami? :p naks! hehe. salamat at bless you!)
krizziasamantha (i'm really touched you think that way.. :) salamat, salamat and have a lovely life too!)
laii (no problem sa link. :) bless you!)
llewellyn (naku salamat sa panonood ng mup! salamat, salamat! and i will try to check your site when i can. its so great to know madami like you ang may sariling initiative. mabuhay ka!)
mai (i know, iba yang si atkins. galing! animo zobel!)
marhgil
marj
marky (oh no, too bad you don't have tfc in your area? salamat sa pag-comment mo!)
marvin only
maui
mayee (hi! wow! you're very, very sweet! i hope to meet you sometime too. the game was wild! animo la salle!)
melle
mia (and its people like you who inspire me too! thank you for your kind words! keep writing, super good yan, keep y speaking! hehe.)
miko (wow, small world! what's your younger brother's name? nadine really is something. :) and yes, ate pia did! she loved biking around australia. take care!)
ney
nico (sorry i haven't checked the link you left pero oo, erick was my classmate in high school!)
nikki (naks, you think so? hehe wow salamat ha! :p bless you!)
peej (salamat at sana lagi kang maki-yspeak! sure about the interview!)
pel (hi best friend.)
princess (wow, thank you! actually and website ng y speak ay nasa www.studio23.tv! salamat!)
rax (can't promise to tag you but thank you and thank you for watching cito's show too!)
reniss (because of me? :) wow, how did that happen? pero thank you pa rin! thank you din for supporting y speak, we need more young people like you!)
rizel
roanne_07 (wow naman salamat sa suporta! thank you and bless you!)
robby (wow, nakaka-touch and inspire naman message mo! thank you! bless you!)
rubs (aaw, well thank you for finally commenting. :) salamat sa kind words mo! bless you!)
russ (kulotski! your hair looks good. you look good too! nice seeing you!)
sandra (sweet naman nito. :) thank you for commenting on my blog, it means a lot! bless you!)
sardine boy (super right observation! i totally notice that too, in fact i dunno how to react. :p)
schumey (wow! pcij, for real? pcij visits my blog? wow.. hehe. well that is our goal at y speak, to prove the young people aren't as apathetic as everyone thinks. we have strong opinions though sometimes just too frustrated to share it. mabuhay ka!)
sharon
soul_seeker (my sister? ab is in ateneo! thanks for dropping by!)
sunset_eyes
supercow (haha, ganun?? nawawala? hehe ayoko naman sirain ang buhay mo! hehe. GoD bless!)
tiepee (purple girl! animo zobel nga! hehe. happy for them now but sana nga nung time natin meron din! hehe.)
tinay
tins
trickyboy
tring
trisha
witto (its good you have a bianca in your life that you value a lot. :p)
yayam
zaikee