pangunang salita lang.. chin up from america, fishy anti-terrorism bill, hacienda luisita reopened, bro. eddie to be captured, calibrated pre-emptive response, executive order 464, all at the same time?
no to martial law or anything that resembles it!!
okay now that that's out of the way, let's move on to the
positive things
in life! :p
iTs aLL aBoUt GabRieL.
gabriel symphony foundation
was put up by senator pia and husband atty. butch in memory of their son gabriel.. gabriel was born with a rare chromosomal disorder called
trisomy 13
, sufferring with a weak heart, enlarged kidneys, cleft lip, was believed to be partly deaf and blind.. he passed away at nine months of age.
gabriel had all the means to live a comfortable, privileged life, but sadly, his health didn't allow him to. that's why gabriel symphony foundation works to help other children
grab the opportunities that gabriel wasn't able to
. the foundation helps disabled kids by providing hearing aids, glasses, cleft lip operations, school materials, and other things to help these children get over little obstacles that prevent them from attending school and living a normal life.
last september 10, the foundation held its
third annual 12-hour run-walk-bike for a cause
, a fundraising event where participants drop by anytime during the day to give their donation, and run, walk, or bike in memory of gabriel.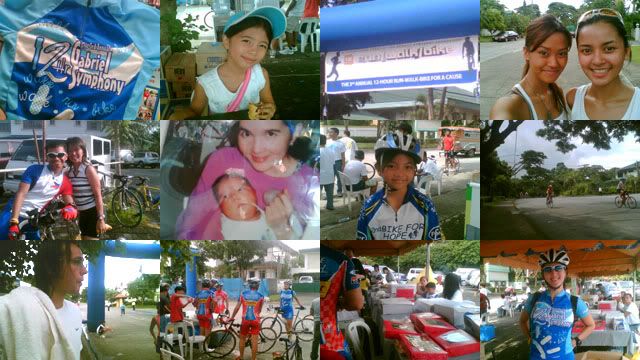 (from left to right, top to bottom) the bike jersey for this year's event, gabriel's ate nadine who was all girly in pink, the huge inflatable arc that marked the start and finish line, my sister and i walking the four kilometer route, national duathlon team member george with gabriel's tita winnie, a picture of ate pia and gabriel on display at the event, gabriel's eldest ate maxine all geared up to walk and bike, cyclists enjoying the saturday afternoon breeze, lino after finishing a round of the 12km bike route, cyclists gearing up for the morning ride, lots and lots and lots of free food for everyone, all smiles for ate pia as early as 6AM.
mAd aBoUt mAnNy!
sa lahat ng nakilala kong personalidad sa trabaho ko, kay manny pacquiao lang ata ako genuinely na-star struck at na-excite magpa-picture at magpa-autograph! yaaay! mabuhay ka pacman!

(from left to right) tough chick look ko to, nakatikim si ryan, and my manny-pacquiao-autographed-edition-mac!
aNiMo ZoBeL!!
congratulations to the 2005 zobel team!!
imagine, the first ever uaap championship of la salle zobel? grabe i'm so proud!! super tambak both games one and two, and it was a win well deserved talaga. congratulations to coach boris, nakaka-inspire talaga ng players niya.. super leader simon atkins, good luck in college ball! martin reyes and enz tumlos na dati ay baby brothers lang ng friends ko pero ngayon, palaban na sa court! de asis and webb who scored so many points to take the win! congratulations!
(from left to right) proud banners all around the school, the first ever zobel uaap champions, victory party at our school gym.