geNeRaTiOn TeXt!
ours is a generation that lives and breathes mobile technology. whether it be for business matters, matters of the heart, or simply just to say "what's the matter," text has become such a big part of all our lives, that we almost can't remember life without it.
allow me to share a few lovely texts messages that i either sent or received the past weeks.
text bless you!
be happy when GoD answers your prayers.
but be more happy when GoD makes YOU the answer to someone else's prayer.
may GoD bless you always!
..from my mom, who loves forwarding these inspirational quotes.
text yahoo!
i got the bowling job brotty!!! i start monday! will make you kwento all the details later!
..from my brother jc, who is now in san francisco and who i miss sooo much.
text serious.
if you think about it, at the end of our lives..
we'd want to look back and say we worked hard because we were inspired and we felt fulfilled, not we worked hard just because we longed to reach a certain high position in our workplace.
we'd want to say that we used the talents GoD gave us to make us happy and to touch other people's lives, not that we used the talents GoD gave us just for the sake of pleasing other people.
we'd want to say we lived extraordinary lives by doing something that meant a lot to us and the world, not that we lived ordinary lives just because we wanted to make sure we'd have a secure life.
it is really only one shot to do all this.
we can only make a difference in the world if we put our foot down and decide to make that difference happen.
(and allow me to add a beautiful quote from the film "motorcycle diaries".. "we can only change the world, if we allow the world to change us.")
..from me, on making decisions in life.
text sweet.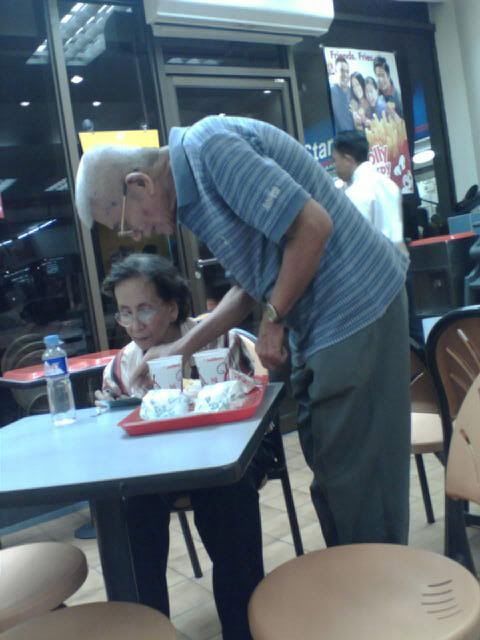 i'm alone at jollibee. people watching. isn't this the cutest scene?
..from my sister aissa, who sent me an mms one evening.
text wow.
family, it looks like it is dad and mom's first born apo who is sending a strong message to pgma. we passed by father robert quickly and he asked the kids to write a dedication in his logbook. she wrote, "i hope your hunger strike succeeds, and that it makes a difference to the filipino people."
..from ate pia, after visiting fr. robert reyes with her two daughters.
text yihee!
simply, it must be love!
..from our producer noel, on ryan and i.
text patawa!
aba'y kung nagsward-speak lang sana sila, eh di sana walang gulo ngayon!
female voice: haloo gracia! haloo haloo!
male voice: mother! natsuktsak ko na po yung mga chuva!
female voice: bongga! eh yung mga tienes tienes, keri na ba?
male voice: winnie santos mother! wa na worry sa mindanaoitch!
female voice: ganda ever!
..from someone who was probably so bored, but in fairness, made us all laugh!
sUpEr tHaNk yOu, SuPeR!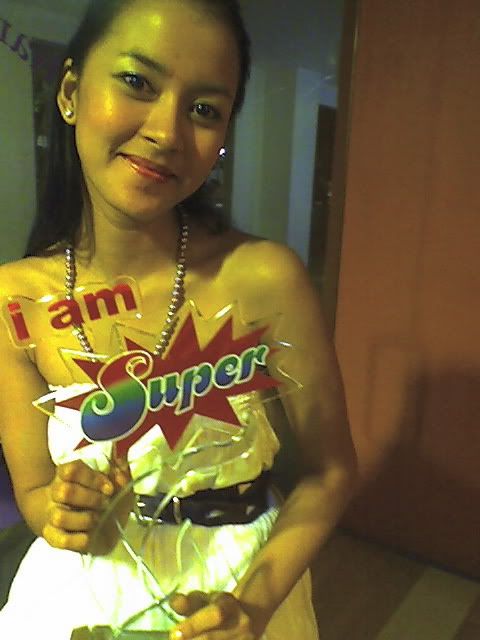 on behalf of the y speak family, i would like to give one huuuge
thank you
to tim yap, pam pastor, and the rest of the staff of super for the "i am super because i rock the world of youth speak" award. a million thanks!! (at least na affirm ang superbianca blog ko! hehehe!)
acey (wow, thank you.. thank you so much for your kind words!)
aerol84 (uy, naku naman salamat ng napakadami sa panonood.. salamat, salamat!)
aion
alyza
andie
andrew (sign up sa blogger.com! very user friendly sila. good luck!)
anonymous
ariane (ay ang sarap talaga mag-travel, if only i had all the money to travel!)
ayeza
bea (you're so sweet! thank you for your kind words!)
ben (my stand? she should resign.. but if she doesn't want, then let due process go on, and everyone should go on with his or her lives!)
bettina (of course, hi bettina! kakainggit ka nga eh, i'm dying to go to new york, if only to visit!)
bloomy
camille (hi dear! kamusta ka na?)
carlo ledesma (uuuy! how are you?! my brother is in the states na, did you know? and yes, review night ended last march.. sadly!)
cath (stay happy too! thank you dear, hope all is well with you!)
chawi
cheddar (thank you dear! i hope all is well with you!)
cheenee
chescalicious (the kids are amazing actors talaga!)
cheska (hi! i was never really very active in any org, but i did join acomm, that's the comm org, at ajma, the marketing org.)
chigo (try inquiring sa website ng nyc for nurse orgs! i heard of some very inspiring ones already.)
chii
clare (thank you dear!)
cline (hehehe! naku salamat!! nakakatuwa naman ang comment mo,, how do you know him nga pala? naks naman. hehe thank you for the well wishes, i hope so too! hehe salamat!)
danah_gee (bless you! stay sweet!)
dandu
dawnie (uy! kamusta ka na? hope all is well!)
dean paul
drakulita (wow! it'd be such an honor to join that list! thank you!)
eli (naku, salamat sa kind words mo.)
ella (salamat sa panonood, salamat!)
enzo (hi! what's your email address? i will try to have our staff send it to you..)
floi
floyd
forg ("suuuuusuuuuunud naaaaah..", its hilarious!)
franz (ang saya talaga ng am, kakatawa!)
freyti (talagang fan ako ng mga anghel, lola! hehe.)
g (thank you, thank you! its very much appreciated!)
gem
gen (hello gen! what is it that you guested for again? naku sorry na nalilimutan, ang dami kasi nakikilala araw-araw! refresh my memory lang. at salamat, salamat sa kind words at salamat sa panonood! thank you!)
gracielle
gyun-woo
haring ulan (yes i agree! everyone should have a say or at least make their own stand on all this.. salamat!)
hellcat (always the highly opinionated one, thank you for the comment and the well wishes, i do hope i get to teach one day.)
hipstah (salamat din sa pagbisita mo dear! i watched your ate guest on homeboy, and how she named you as the most beautiful girl she knows.. so sweet!! :)
hishes (email lang kayo sa yspeak_abscbn@yahoo.com and ask kung kelan kayo pwede maging audience! anyone, pwede! hope you can come watch sometime!)
ish (no problem on the greeting, it was nothing! super payag naman ang wazzup crew sa pabati.. so thank you also dear, for everything!)
janice (yes, atom is quite the heartthrob! hehe!)
jekert
jennie
jepi (haha ang dami ngang quotable quote sa congress!)
jesh
jill (hi dear! i'm great, thanks for asking! how about you, kamusta na?)
joan
jonee (wow naman, salamat sa kind words mo, thank you!)
jot (thank you for watching, thank you! at talaga, lahat ng youth dapat maging inspiration ng ibang youth!)
joyce (hehe, no worries! blogs are great for rants, i always rant too! heheheh. thank you so much for your kind words, thank you!)
kae (thank you, thank you sa panonood! salamat ng madami!)
kai
kat (thank you still, for visiting my blog!)
kathy (yes, i'm going to the reunion! aaw.. best effort na lang i guess for everyone!)
khitee
kym (congressman gilbert? super galing nga at bait nun! hehe and if ever, thank you, thank you for watching!)
lester
lindbergh (hehehe, natutuwa ako sa comments mo! maraming salamat sa panonood, it means a lot! and thank you din for your kind words!)
mai (congratulations to la salle!)
mandy (yes, beatles fanatic!)
mari (ang di matuloy-tuloy na coffee na yan! hayayay! sorry!!)
maris (wow! wow naman, salamat ng madami for your kind words!)
mark (uy thank you to you and your family! thank you, it means a lot!)
marky
marvin only
maui (wow! i don't know what to say, i'm quite speechless. thank you very, very much! hehe and your trivia on am radio, hmm.. makes sense ha! thank you again!)
max (salamat sa kind words mo, salamat!)
mika (sure no problem, and also, welcome to the blogging world!)
mishi
monica (wow naman, thank you! you're too kind!)
mundski (very well said! i agree!)
nao
ney (wow! so many similarities!! haha are you my long lost sister? kakatuwa naman! thanks for dropping by!)
nicole
nikki
pakialamero (naku! wow, i'm flattered but, sorry i don't think that can be! hehehe.. oh my, hope all is well with you!)
pauleen
pumpkin (yes sure, thank you also!)
rashid
regina
renz
rhen
rizel (salamat, salamat! naku sana you always get to watch din!)
rjay (minsan nga may glitch sa blog na di naglo-load fully.. di ko nga lang alamwhat the problem is, sorry!)
roanne
rochelle (salamat sa panonood! thank you!)
russ (hahaha at madami pang ibang similarities i'm sure!)
sandy (no, i wanna thank you dear! keep rockin' too! and ang ganda nung event na sinabi mo ah, but sorry we didn't know about it! sana nga nakapunta o makapunta kami diyan minsan..)
shai (yes sure, just send me a message dun and reply ako pag naglog-on ako!)
she (how nice of you to finally comment! thank you for your kind words at salamat din sa panonood! hope you always get to watch and learn something.)
shna (hehe super entertaining ng am radio sa traffic no? at yes, bunso!)
stephen (hello, thank you, and regards to your family!)
stephiee (hello! thank you for the tip! i tried clicking the link but the page doesn't load fully.. but thank you for reporting it! its very much appreciated!)
sunset_eyes (yes thank you, i linked one.org on my sidebar already, thank you and also good job fighting for a worthy cause!)
supercow (really? you were at the super screening? naku if i see you at the super awards this saturday, i sure hope to meet you! thank you for your kind words! i agree with you on your thoughts on the film too, by the way.)
tiffy
tins (naku! that's nothing to how you all take time out to read and comment.. so thank you!)
vj (wow! congratulations, pop winner ka pala! :p forgive me if i don't remember, we have one everyday! well, dati nung nasa breakfast pa ako. i'm happy you got inspired to blog cause of this.. thank you! keep writing!)
wanggo (kamusta? so poetic as always! did you get to catch any of the cinemalaya or cinema one films? ang ganda ng 'big time'!)
yv (thank you, thank you for your kind words! my blog? someone just sent me to codes to insert it in my blog.. try searching for it sa google. good luck!)