i love philosophy.
i've said it sooo many times and i'll say it again. i love philosophy! i fell in love with it so much that i took it up as my minor. i fell in love with it so much that it is in my plan to take up masters, then when i get older and wiser, teach. i fell in love with it so much that i was crazy enough to sit in a 730AM philosophy of man class yesterday morning!
meet
dr. leovino garcia
, the dean of the school of humanities in the ateneo.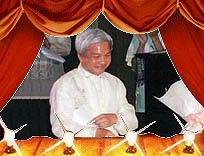 you know how they say that sometimes, you meet a professor in college who changes your life? well, that's doctor g (as we fondly call him) for me. my kuya took his class, loved it, influenced my sister to take his class, she loved it, influenced me to take his class, and i ended up taking a total of like six subjects under him. he was my first ever teacher for my introduction to philosophy, he helped me get over my fear of a terror philo teacher (hi sir eddieboy!!), he encouraged me to take my minor, and he continues to encourage me to further my studies. nakakatuwa ding malaman na yung prof na pinaka-naimpluwensiyahan ka, proud na proud pala sa iyo!
super tagal na naming pinaplano ng former classmate at friend ko na si tammy na mag-sit in sa klase niya. nakakatamad lang kasi imagine, 730AM ang klase?! haha! but finally, we both decided we were insane enough and thirsty enough for thoughts on "being"! (thanks tammy!! next time, ayain natin yung iba ha, hehehe!)
i was the type of student na parang nagsusulat ng libro kung mag-notes, kaya photocopied to death ng mga kaklase ko yung notes ko kapag malapit na ang exams! haha. but i was also the type of student who loves to doodle. proud to be a dork and nerd ako! share ko sa inyo ang mga notes ko from this morning..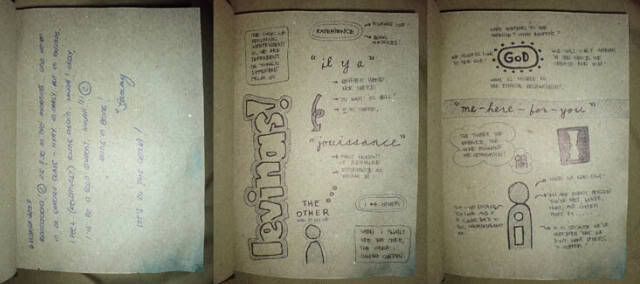 haha! feeling student talaga! :p
itutuloy ko na ang sharing streak ko by telling you about one of the ideas brought up in our discussions about emmanuel levinas that fascinate me the most.
i am an "i", different and apart from an "other". but i am an i that is a
being-in-the-world-with-and-for-others
. what makes up my being is everyone i've met, loved, hurt, and gotten hurt by in my life. a person who hurt me will teach me about pain, and will help me decide that i do not want to hurt others. a person who loved me will teach me how it is to give love, and will make me want to share love with others. a person who was kind to me will make me want to treat others with kindness. when we
experience
, we often think that it is an act of taking in.. but more than that, it is an act of pouring out. being open to the possibilities of this world, and the possibilities for us as beings-in-the-world.
okay, practice lang yan sa mga future ten-page papers na isusulat ko pag nag-aral ako ulit. (mag-iipon muna ako ng pera at experience. :p) hahaha!