my main man.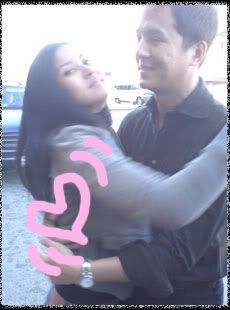 anyone who knows me knows that my brother jc is
the main man
in my life!!
aside from the fact na freaky ang pagiging magkamukha namin, (my brother insists na twins kami, but i just came out six years later, at nauna ang ate ko, haha!) almost all of my interests in life, attitude towards things and situations, dahil sa influence niya. course ko na comm arts, my job now, my taste in movies and music, my taste in clothes both for men and women, the way i handle pressures at work, the kind of friend and family member i am, the way i'm smart with my money, the way i drive, haha, basta you get the point! :p
i have this attitude na kung ano yung nakikita kong ginagawa ng kuya at ate ko, yun ang "cool" para sa akin. yun yung gusto ko gawin, at gusto ko maging. hehe.
at isa sa mga pinakabilib ako na ginawa ng kuya ko? passion talaga niya to
see the world
.. :)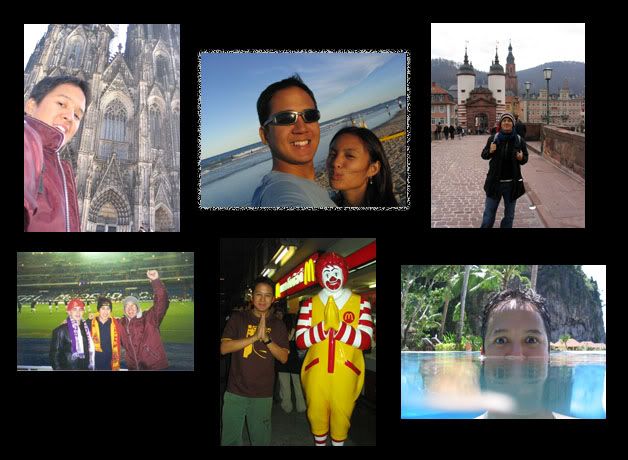 clockwise from top left.. koln dom, germany, where three kings are buried! with his girlfriend tracy in gold coast, australia. feeling cold in heidelberg, germany, where jose rizal got his phd! steady in el nido, philippines. posing with ronald in bangkok, thailand. with his friends monch and pach at an actual real madrid game, in spain!
i remember those times na uuwi siya from a trip, every photo has a story, and he really would not run out of stories!! i knew from then on na kung makapag-ipon ako, i want to do what he did. i wanted to see for myself, the things, places, and people he saw.
ever since, dream talaga ng kuya ko to live abroad. a few years ago, he tried his luck in madrid, ended up staying only three months, but still, had the time of his life. (i remember making him a short film as a goodbye gift! we were all crying while watching it!!) now, he is living happily in san francisco, has been there for around two years, and he's still having the time of his life!
travel tips from jcg?
..the best time to travel is the year you graduate up to three years after.. the time that you aren't worrying yet about bills, or saving up for your future.
..keep a body bag for your money! and don't put your money all in one place. put some sa maleta, sa carry on bag, sa wallet.
..take lots and lots of photos. (and volunteer to take the photos of other tourists as well!)
..walking around is the best way to get around. :)
..you will never regret spending for travelling because the things you will learn are priceless.
we looove our schmoopsiepoo!
(that's what my sister and i call our brother. sa 'seinfeld' namin nakuha, hehe.) definitely there will be more stories to come about how my loved ones have influenced my life!
a few days after.. nagpadala ng email sa kin kuya ko after reading this post..
saw your blog brotty!! so sweet naman. now your turn to travel!!!!!
 - your twin + 6 yrs
i wanna cry now. super kuya's girl!!!!