the perfect day!
it was the coolest wedding ever.
may 3, 8:00AM.
the bride was oozing with that bridal glow! but beneath the glow, there was anxiety. "isang scotch on the rocks please." then the rest followed, "i'll have bailey's on the rocks too."
may 3, 2:30PM.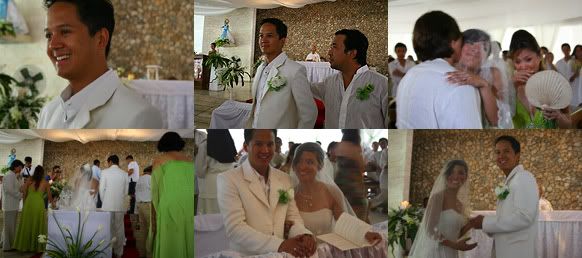 as the groom put the ring on the bride's finger, she smiles so brightly, and the groom raises his hand and says, "yeah!!" everyone laughs and claps.
may 3, 4:00PM.
and as the couple drove away in their bridal golf cart, there they were, the sisters of the groom and the brother of the bride.. "yung tatlo o, umiiyak! picture, picture!"
may 3, 4:15PM.
the photographer instructs, "o, the bride and the bridesmaids, jumping shot!" right after, the groomsmen ask, "groom and the groomsmen, jumping shot din?"
may 3, 4:30PM.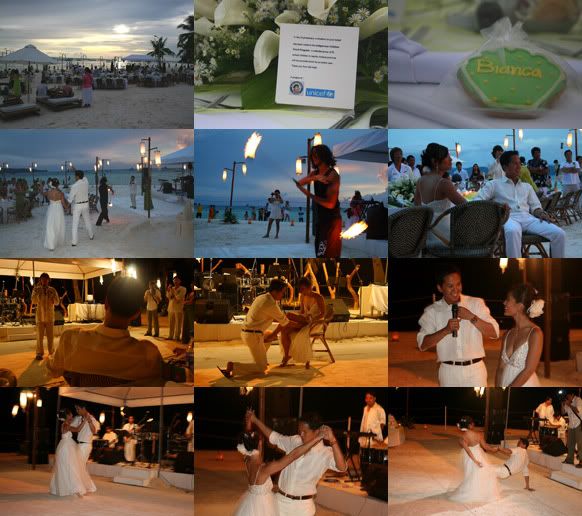 at the beginning of the program, the bride's brother performed. the bride said, "wow! i didn't know tj could firedance that well!!" at the end of the program, the couple performed a surprise rhumba number. the sister of the groom said, "wow!! i can't believe my brother just danced!!"
may 3, 7:00PM.
we called her the happy bouncing bride.. "i'm sooo haaaaappy!! teka, may bride na ba na nalasing sa sarili niyang wedding?"
may 3, 10:30PM.
"look at all those crazy drunks dancing in the rain!", people said while taking shelter after it started to pour. a few minutes later everyone was soaking wet, jumping and singing all together, "its a beautiful day! don't let it get away!"