i abso-friggin-lutely looove japan!!!!
i LOVE japan!!!! super! its sooo hard to put into words how much i love this place. the energy, the culture, the sights, the architecture, the lights, the people, the way they dress, the food (oh the foooood!), evvverrrything!!!! took me sooo long to post about this trip because its sooo hard to choose what photos to post and what words to say about it! but at least, finally, it is here. yay!!
i've been to tokyo only once before, that was last year, and i instantly fell in love with the city. vince has been to tokyo twice in the past, and was there on his third time this last holy week with his family. end of march and start of april is also the best time to go to japan because of..
cherry blossoms
!!!!
i cannot even begin to describe how beautiful a sea of trees in full bloom with cherry blossoms is. perfect time of year, perfect time to travel. so, we decided to meet up in tokyo.
tokyo!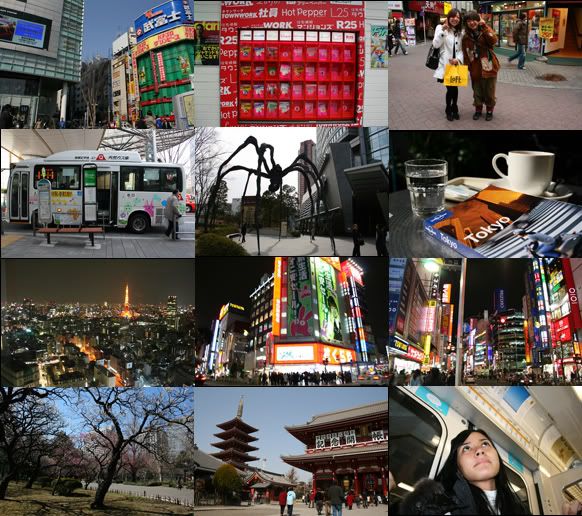 it is hard not to fall in love with tokyo. its impossible! hahahhaa! this i feel is one of those cities you absolutely must see in your lifetime. i love paris and i love new york, and i can say that tokyo is
the
city in asia. it has the same intense and inspiring and energizing energy that you get such a rush from!!
omotesando, shibuya, ginza, shinjuku
!! these are my favorite areas!! i swear you will not be able to stop yourself from looking left, right, front, back, its like sensory overload in tokyo!! the way people dress!! its sooo inspiring. its the most inspiring! in tokyo, fashion is like the main form of self expression. walang pakialaman! people wear what they want to wear and they wear it with confidence and style. i love it so much. and. the. food. the. food. shoot. really. if you love japanese food you must go to tokyo. sushi and sashimi in
tsukiji market
is the freshest in the world. as in you literally feel like they just caught the fish five minutes before it is served to you. everything melts in your mouth! eating japanese food in japan will make your knees buckle, will make you forget your name, and will send chills up your spine with every bite. love it!!!! and don't get me started with the shopping. the shopping! for fans of
uniqlo
and
muji
, tokyo is the place to be. its like five floors of uniqlo and muji! a whole department store of uniqlo and muji! we were sooo lucky that when we were in tokyo, the designer's invitation project collection of uniqlo just came out. shipley and halmos, gvgv, steven alan for uniqlo! we hoarded them all!
you will go insane! tokyo will make you go insane. that's right. but a lovely kind of insane. hahaha.
i followed vince and his family at the tail end of their trip. when they headed back to manila, vince and i decided to go on our
japan adventure
. to see the cities we both have never been to before!! if you want to see more of japan, the japan rail pass should be your best friend. meet,
japan rail pass
.
you can only buy it outside japan because it is specifically for tourists. so ask your travel agent about it! ticket price depends on number of days, but whichever you choose, its for unlimited travel! unlimited! so visit as many cities as you can via the
shinkansen
, the famous bullet train, which is what we did!
kyoto!
kyoto. the word tokyo rearranged. the old capital of japan. a perfect mix of modernity and culture. some parts ultra-high tech just like tokyo, and some parts very traditional. on our first night in kyoto, we tried to do as the japanese do. bathe in the public bath! an hour away via train from kyoto is kurama. high up in the mountains, famous for its public bath. of course men are separate from women, all clothes come off, and bath water at a temperature hot enough for coffee is the main attraction. it is one of the most relaxing experiences of my life!!!! something about being submerged in the heat that calms all your nerves and relieves all your stresses. amazing experience. as for culture in kyoto, the nijo castle and the kiyomizu-dera are two unesco world heritage sites you must come to see. it is amazing how the wooden structures from centuries ago still have the strong wood smell to it! not to mention the squeaks and creaks while walking through! most of these temples by the mountains also offer the most spectacular sunset views ever. a "night walk through the floating world" is one of the walking tours on the lonely planet book that we highly recommend. an amaaazing three hours of sites and sounds and street food! speaking of food. can't get enough of it in kyoto. the most delicious ramen in the world with chasu that melts in your mouth at karako ramen, ultra yummy and cheap yakitori til you drop at ponto's, and delicious i-have-no-idea-what-on-earth-is-in-it okonomiyaki on an unnamed stall along shijo dori. (wow, i'm getting really hungry writing this post.)
nara!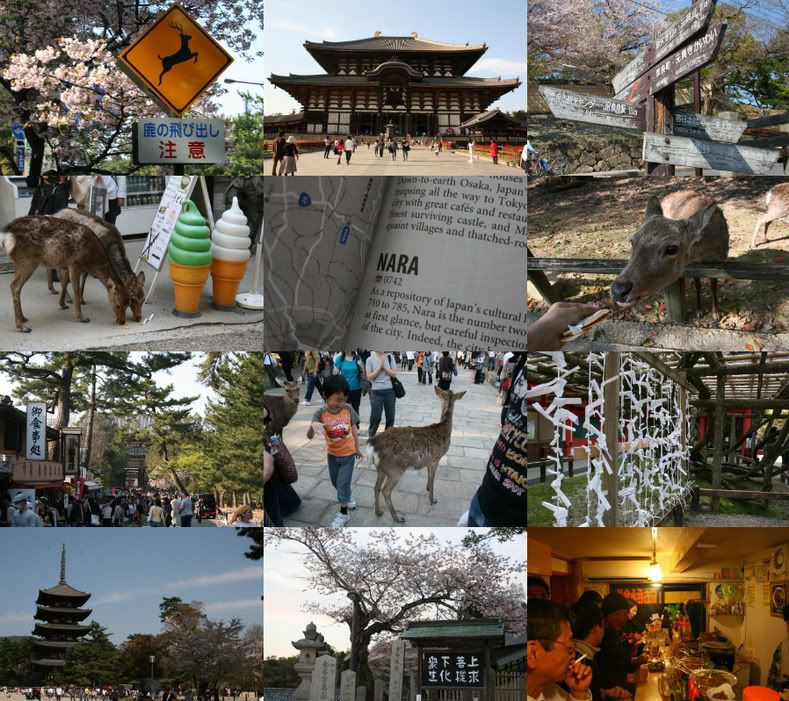 nara is so pretty. so pretty. unbelievably pretty. it is the old japan. if it were in a movie, it'd be the perfect setting for someone daydreaming or for a couple having a picnic in the park. being in nara is like being in a dream. yes, its that pretty! every block is an amazing temple or pagoda, and every park has a deer. if here in manila you see askals left and right, there, you will see deer. ang daming
deer
!!!! its like, human, deer. human, human, deer, deer, deer. and deer. ang dami talaga! the first deer you see, you'll take like a hundred photos. only to walk a bit more and find like ten deers all together! haha. the deer are very friendly. you can buy deer food for 150 yen and just feed the deer you see along the way. its quite a charming feature of this city i must say. nara also holds a million unesco world heritage sites. (hahhaa! okay, oa yung a million. but i just mean to say i feel everything was preserved so well that they still have so many world heritage sites.) and our favorite site of the trip was here in nara. the
todai-ji
. the oldest and biggest wooden structure in the world. as in from the 12th century. that old. and that preserved. and its really huuuge! its houses numerous golden relics and miniatures of other sites during that time. a must-see if you are in nara!
vince likes visiting different restos and bars when traveling. he likes seeing the interiors, the menu, plus meeting locals or tourists out that night. i am quite picky when it comes to choosing bars, since i'm not the going-out type of person. walking down the main avenue in nara, we passed many establishments until one finally caught my attention. a wooden structure with a little whiteboard outside that read,"
welcome to standing bar
."
you go in, and literally, it is a standing bar. no bigger than a starbucks counter maybe. standing bar is full with ten people standing. on the bar list is only beer, sake, and cola. pulutan is takoyaki, nuts, and free pulutan is parsely (literally a plant in a pot of soil and you just pick the leaves off). paying is practiced with the honesty system. pay as your order and drop your coins in a minnie mouse coin bank. so kitchy i love it. just like the series "cheers", its literally the bar "where everybody knows your name". so charming! we met masashi, an extremely happy-go-lucky-even-though-jobless-former-filmmaker who introduces us to everyone. everyone tired from work, meeting up, drinking, sharing a few laughs. most fun night of the trip i must say. :)
kobe!
they call kobe the "san francisco" or "europe" of japan. locals who cannot afford to go abroad go to kobe for their much needed vacation. and this city does have the feel that everyone seems to be on vacation! its very laid back, very steady, very relaxing, very beautiful. very beautiful and progressive considering the kobe earthquake of 1995! amazing how advanced the japanese are. in just over a decade, you won't see a single trace that this city went through such a traumatizing experience. everything is new, there are parks and flowers everywhere, skyscrapers and malls abound. also, there are so many fancy cars in the city! from vintage to uber expensive to pimped cars. every so often in the more crowded areas you see street artists selling calligraphy, paintings, crocheted items, or street musicians! we also chanced upon this super posh designer reject outlet store called
ragtag
. all the designer labels you can think of in ultra good condition! suprisingly, i didn't buy antyhing, but vince got himself a pair of loafers. we just spent one whole day in kobe but saw everything we needed to see. and of course, in kobe, have..
kobe beef
!!!! huwow. huwow lang naman talaga.
lonely planet
is your other super, major best friend when on a japan adventure, and we made it a point to always choose the inexpensive, favorite-hang-out-of-locals places. for the kobe beef, we chose a tiny basement resto called "taka". again, like all other japanese food in japan, there was knee-buckling, name-forgetting, and spine-chilling!
after kobe, we went back to tokyo, and enjoyed our last days with the energy of the city. amazing city. it is definitely one place i would love to go to again and again and again!!!!
and of course to add to my collection..
tumbling around japan!

ginza district, tokyo, japan. shiodome train station, tokyo, japan. cherry blossoms by night, kyoto, japan.
so there you have it. my japan adventure!!!!
i think its obvious with how long my post is how much i truly love the place. :)
読んで頂きありがとうございます!