oOoH, CeBu!!
ang ganda pala ng cebu! it was my first time to cebu last weekend! i spent just three days and two nights there, but i must say, it is a really beautiful city!
five reasons why i fell in love with in cebu..
1 -
bora-feel, manila-setting.
i love how the city is so laid back, where anyone and everyone feels welcome and comfortable, very much like boracay. at the same time there's that touch of the cosmopolitan lifestyle, the uniquely pinoy spunk of the cityfolk, very much like manila! i love how i feel i can walk around anywhere from the mall to the bars, in slippers or heels, with friends or my famiy, and i'd fit in just fine.
2 -
everything is so near each other!
everything is just ten or fifteen minutes away from each other.. and to add to that, there's hardly any traffic, there are no annoying jeeps or buses, and its so easy to get a cab! galing!
3 -
cebuanos and cebuanas!
ayayay the people are so warm! not to mention the very malambing manner in which people talk. also, gimikero pala mga cebuano! they know how to have fun. :)
4 -
the food!!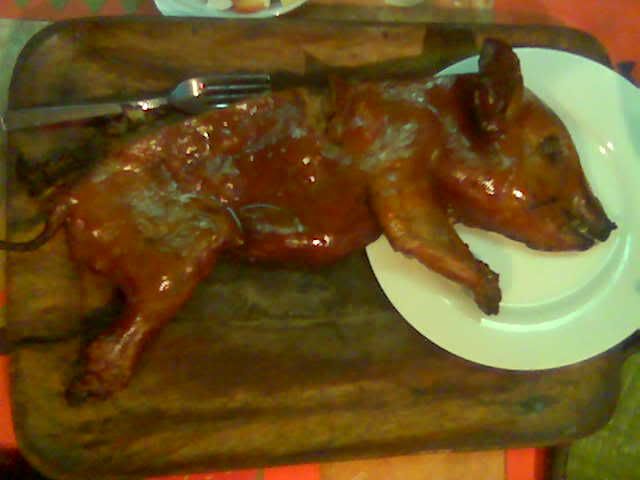 of course there is the lechon de leche. wooow!! thanks to ryan who brought us to this restaurant (i forgot the name, oops..) near gaisano country mall, we had the best meal ever! we had lechon, tuna belly, pakwan, ensalada, tadyang, hay i can go on and on! another is this super-mega-grabe-ibang-klase champion restaurant at crossroads called tsai. wow!! its an asian fusion restaurant and we had dishes like salmon tempura, ginataang manok, crab and mango salad, crispy kangkong.. ang sarap talaga! and to think, i didn't even get to go to sutukil or the malls to try out other famous restaurants. pagbalik ko! hehe.
5 -
the beach is 30 minutes away.
this tops it off to make cebu a strong contender for a city i'd like to retire to. :p
north versus south.
"welcome to talks by the beach with ryan and joaquin.." this would have been the perfect intro for the discussion i had with a few friends on the shore of tambuli beach resort. (yes, still in cebu!)
it all started with ryan making a comment,
"wala, iba talaga ang south sa north."
you see, ryan is a south boy, joaquin is a north boy, and i am a south girl. (just for example's sake, here are sample demographics. a north boy is a 17-year old ateneo student who lives in xavierville and uses a nokia 6630, while a south boy is a 19-year old dlsu student who lives in bf homes and uses a nokia 7650.)
they threw characteristics of a south boy or north boy at me, and i had to confirm or deny. in the end, all their observations proved to be pretty much correct. let me share a few..
ang north boy, kung gusto ka, liligawan ka.
ang south boy, hindi mo alam, nililigawan ka na pala.
ang north boy, crush siya ng barkada mo.
ang south boy, gustong makatambay ng barkada mo.
ang north boy, liligawan pati nanay mo.
ang south boy, babarkadahin ang nanay mo.
ang north boy, tahimik at polite kapag kasama ang pamilya mo.
ang south boy, makwento at masigla kapag kasama ang pamilya mo.
ang north boy, first date ninyo sa nakaka-impress na restaurant.
ang south boy, first date ninyo ay movie tapos coffee.
ang north boy, bongga magregalo.
ang south boy, simple pero meaningful ang ireregalo.
ang north boy, sasama sa yo at sa barkada mo.
ang south boy, isasama ka sa barkada niya.
what do you think,
agree ka ba?
cuuutiepie!
from the beginning of star circle quest, he was already my crush. and i finally met him! meet aaron aka mokong. :)
thank you sa lahat ng nagcomment, salamat ng napakadami! sorry, i will try to visit your sites when i can.. thank you talaga ulit!! taking your time out to comment is highly, highly appreciated!