tHeSe aRe a fEw oF mY fAvOriTe tHiNgS..
everyone should have a list of his or her
favorite things
, or things that make him or her happy! in this chaotic world, we all need our share of things that keep us smiling and sane. :)
1 - thinking of how
GoD has been so good to me
is definitely a favorite thought of mine! during times that things don't really go my way, i just think of all the other blessings that i have received.. sometimes i even think that i don't deserve this much!! GoD is just so good.. yes, all the time! it just inspires me to do more and be better, using everything GoD has given me.
2 -
spending time with my family and friends!
they're the best.. (a special hello to internet junkies pepel, carlo, and jet!)
3 - i always say,
"so many movies, so little time!"
watching movies allow you to dance in and out of different worlds, if only for an hour or two (or sometimes three!) i can't wait to see..
4 - mga konting luho ko! hehehe. i love
window shopping
for different clothes..! window shopping? yes! its nice to just look around and imagine i could wear these things, hehe, it'll be too expensive to actually buy everything i want! i love looking in shops like mango, defect, people are people, janylin.. ayayay wow! hehe. its also fun to look at the websites of old navy, hollister, and designer brands! but my biggest luho of all by far are my
chucks
! here are my five latest chucks that i looove! (from left to right, top to bottom.. a stamped black, white, and pink pair i bought, with special pink laces from pepel; a really wild highlighter yellow pair from converse; a bright pucci-type print i got as a birthday gift from my best friend pepel; the all violet raincoat-material pair i mentioned in the previous post from converse also; and a graffiti-inspired pair from converse.. yahoo!!)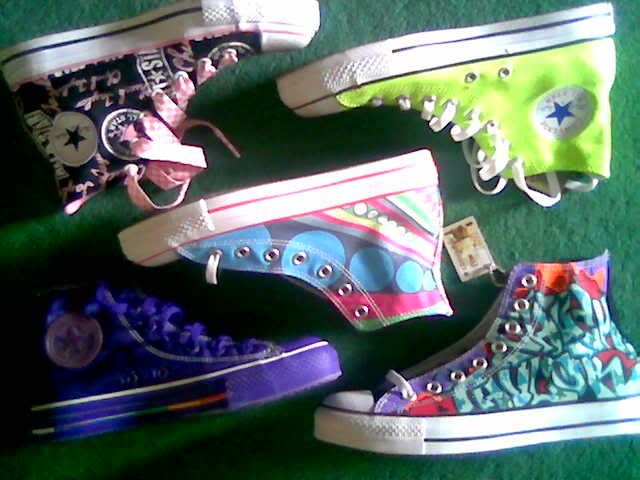 5 -
the dream of travelling..
haaay. aside from uber-destination boracay, dream ko to visit my friends and family in the states. i hope i can save enough money to do that before the end of the year! and as for my long term travel dreams?! before i die, i would like to see tokyo (i just love japanese fashion and i'm so curious to see the high-tech-ness of the city! haha!), egypt (i dream of seeing the great pyramids and studying up on them while i'm at it), and a dream destination of all, france (for the culture, the people, and just to walk through the streets!)
oNe..
please log on to www.one.org (or click on the icon on my sidebar) and sign up to support this cause to eliminate poverty. if you haven't seen this amazing ad on tv (starting with the face of brad pitt!!), then lemme tell you a bit about it. this
one campaign
aims to convince the american government to allot 1% of the budget for their cause. 1% is equal to $25B, and will help the one billion people who live on less than $1 a day. their main thrust is to fight for education and health.
at the end of the ad, they asserted, "we're not asking for your money, we're just asking for your voice."