mood: fascinated with the japanese.
when i was younger, i thought that if i'd go to tokyo, i'd see flying cars. haha. ganun ka-astig ang perception ko of japan! kaya siguro ever since, it has been one of my great dreams to get to travel to tokyo. but for now.. habang dream pa lang yun, allow me to share with you some of my favorite japanese things.
favorite japanese film: 'hokaru no haka'
! also known as 'tombstone for fireflies' or 'grave of the fireflies'. i remember that when the film ended, up til i was walking out of the cinema, up til we were in the parking lot, i was crying. a powerful family film. i highly recommend that you watch it.
favorite japanese series: 'karekano'
, also known as 'his and her circumstances'. i really am not a big anime fan, but this series was introduced to me by my film classmates back in college (hi bob! hi dan!), and ayayay!! di ko inakala na pwede kang ma-in love at kiligin sa isang animated series. beeeautiful love story.
favorite japanese song: 'easy breezy
' by utada hikaru. for some reason, listening to this song reaaally picks up my mood. haha, weird kasi di naman yun ang message ng song. =p basta, masaya siyang pakinggan!
favorite japanese supermodel: ai tominaga
. i love her look! i bought a magazine with her on the cover and i have loved her since then. i once had a gown made for myself (by joey samson! thank yooou!) that was patterned after something she wore, hehe.
favorite japanese designer style: tsumori chisato
. stumbled upon tsumori chisato the designer in a local designers shop somewhere, at kahit mahal, i just fell in love with this one dress from the label! clarification lang ha, i don't really know much japanese designers, pero ito yung isa na lagi kong sine-search sa internet para makita ang collection. hehe.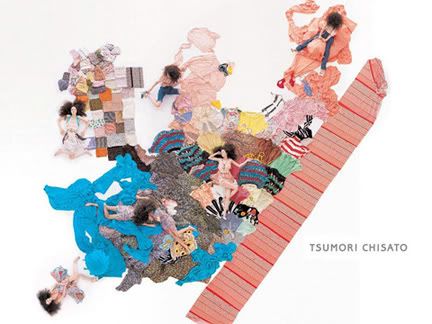 favorite japanese retail style:
uniqlo
. again, i don't know of much japanese retail brands, but uniqlo was a brand my best friend pepel introduced to me. (hi pel!!) one of my favorite pair of jeans is this dark denim from uniqlo, that i bought on a rush shopping trip without even fitting!
favorite japanese food: all!!!!
hahaha. but my favorites are.. the soft shell crab salad in kai, greenbelt 2. the american dream sushi in omakase, alabang town center. and the crunchy california maki in kaiseki, the fort. the beeesssttt!!
and just as a bonus.. if you want a good laugh, watch this clip of a japanese game show called
'human tetris'
! grabe laugh trip talaga to!
tokyo.. hope to see you soon!