gonzalez girls getaway.
destination: shanghai!
would you believe me if i tell you that my mom is 60 years old?
every single person who has seen my mom cannot believe she is 60. my sister and i can't either! grabe, kung sinasabi nila na ang itsura ng mommy mo ang magiging itsura mo paglaki, aba! ang swerte namin ni aissa! hehehehe. last october 18, my mom turned 60. grabe, 60!
with 60 being such a major new chapter in her life, she decided to celebrate by taking a birthday trip with me and my sister. somewhere none of us has ever been. and the winning city was.. shanghai, in the people's republic of china.
it was a fun trip!! there was a lot to do so i was actually torn between being my usual paparazzi self and being an eager tourist..
the shopping! ayayay, there is so much shopping. walking around xintiandi, nanjing road, huaihai road, and super brands mall were highlights of my trip, but from market to mall to high end, they have it all here.
the food! to be honest, i am not much of a chinese food fan, but i tried some of the best tasting duck and dumplings this trip!
the culture. i love the culture part of traveling. shanghai is a fairly new and modern city compared to other cities in prc, so there wasn't much of the ancient and traditional temples, structures, neighborhoods that i was looking forward to. they do have a couple of worthwhile museums to visit, and i appreciated the mix of old and new architecture throughout the city. and oh, the cultural show is so worth it!
the people. we encountered some very aggressive and rude chinese, but we also encountered some very thoughtful and hospitable chinese! its sort of like an asian new york sometimes, sort of like hong kong, where people are rushing and its every man for himself. but there are also those young and vibrant ones, some artists even, who just hang out, are steady, laugh a lot. and you know how in some places you feel odd being such a tourist stopping everywhere looking lost? in shanghai, there are so many tourists, that you won't feel like such an oddball with map in hand.
getting around. this is another city where it is easy to get lost in translation! not a lot of shanghainese speak english, and you more or less get by with charades-like gestures and an animated way of speaking. the city is pretty tourist friendly though, with lots of signs and a good public transport system. having a lonely planet or groovy map on hand will definitely help.
since one of the major features of traveling is food, here are some of our food finds.. my mom found her on-the-street pastries, my sister found packed local delicacies, and i found my favorite pocky!
kung gaano ako kahilig magpakuha ng "tumbling shot"..

ganun din kahilig ang mommy ko sa "picture with the flowers"..
super hilig din namin ni aissa sa "jumping shots"..
kaya naman hindi din nagpatalo ang mommy ko!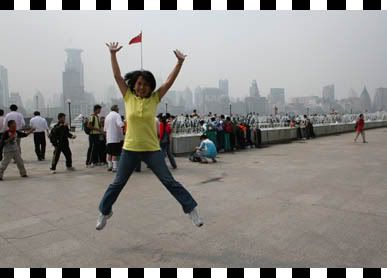 a happy, happy, happy BIG 6-0 to our mom whom we love so much!!