amaaazing grace!
just like the ups and downs of our personal life, our spiritual life also has its ups and downs. may time na malapit tayo sa DiYoS, may time din na nakakalimot tayo. i was in a spiritual high when i took lss and search-in back in high school, then i backslid amidst all the things on my to-do list during college, then i grew much closer to the LoRd when i met certain people in my life after college, until now!
after 24 years of MAJOR ups and downs in life, i've learned that one of the best, if not
the
best thing that can help comfort you?
the bible!
as in!! i've read the bible crying, laughing, hurt, angry, happy, fulfilled, lahat!! and really, what a difference HiS word makes.
meet my backpack bible, yet to be named (my most precious items are named, so pepel, think of a name na for this!), and just like a school notebook, i have doodles of all kinds on it. :p try it!!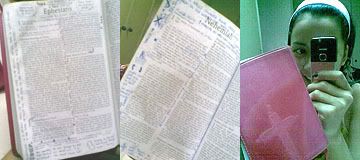 allow me to share with you a few of the most powerful passages, that were shared with me those times that i needed comforting most. in case it might help you out or lift you up in any way. :)
"therefore i tell you, whatever you ask for in prayer, believe that you have received it, and it will be yours. and when you stand praying, if you hold anything against anyone, forgive him, so that your FaTheR in heaven may forgive you your sins."
mark 11: 24-25
, shared by spiritual guru connie reyes.
"therefore, strengthen your feeble arms and weak knees. make level paths for your feet, so that the lame may not be disabled, but rather healed."
hebrews 12: 12-13
, shared by my wise-woman, tita sandy.
"'for i know the plans i have for you,' declares the LoRd. 'plans to prosper you and not to harm you, plans to give you hope and a future.'"
jeremiah 29: 12
, shared by my darling friend toni.
"look at the birds of the air, they do not sow or reap or store away in barns, and yet your heavenly FaTheR feeds them. are you not much more valuable than they? who of you by worrying can add a single hour to his life?"
matthew 6: 26-27
, shared by my guiding light, pastor doy.
"i can do everything through HiM who gives me strength."
philippians 4: 13
, shared by me to you.